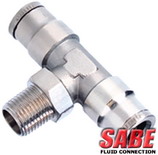 Metal/Brass Push-In Fittings
Features
Simply to install & uninstall with no tools.
Stainless steel tube locking mechanism.
Thread sealant on taper threads, O-ring face seal on G threads.
NBR as the standard sealing material,other materials are available upon request.
Nick plated is standard for bass surface treatment, ensure anti-corrosion and anti-contamination.
Reuseable-Can be assembled and disassembled repeatedly. (recommend to cut the surface-damaged part of tube)
Thread: BSPP, BSPT, NPT (Please contact us for other styles)
Construction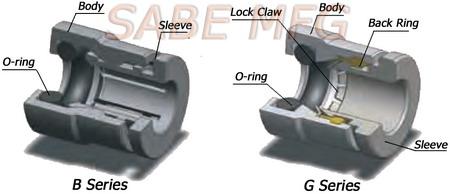 Specification
| | |
| --- | --- |
| O-Ring Seal | NBR (other materials are available upon request) |
| Gripping Mechanism | Stainless Steel |
| Temperature Range | 32° F to 176°F (higher temperature are possible with special O-rings) |
| Pressure Max | 230 PSI (mainly limited by tube's enduring) |
| Vacuum Duty | 29.5 Inch Hg |
| Media | Compressed Air |
Note: These meant only as a guide to aid in design. Field testing should be performed to find the actual values for your application.
Installation Instructions
| | |
| --- | --- |
| | |
| Figure 1 | Figure 2 |
To connect tube (see figure 1)
Cut tubing squarely–maximum of 15° angle allowable.Use of tube cutter (PTC) is recommended.
Check that port or mating part is clean and free of debris.
Insert tube into fitting until it bottoms.Push twice to verify that tubing is inserted past collet & O-Ring.
Pull on tubing to verify it is fully inserted.
To disconnect tube (see figure 2)
Simply press release button, hold against body, and pull tubing out of fitting.
Brass Push In Fittings (Nickel Plated)