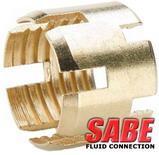 Air Brake Hose Ends
DOT Air Brake Fittings For Rubber Tubing (Hose Ends)
Conformance - Meets D.O.T. FMVSS571.106 standards when used with SAE J1402 Air brake rubber hose.
Applications
Use with SAE J1402 rubber hose for connection in air brake systems.
Features
Construction - Three piece unit: body, nut and sleeve. Extruded(Brass CA360 or CA345) Configuration.
Vibration resistance - Fair resistance.
Advantages - Easy to assemble and disassemble (no tube preparation or flaring required.)
Specification
Temperature Range: Fittings will withstand variations from -40°F to +120°F (-40°C to +48°C)
Working Pressure: Maximum operating pressure of 125 psi.
Assembly Instructions

Slide nut and sleeve onto hose. Make sure bevel edge of sleeve faces out toward fitting.
Push and bottom hose into fitting.
Screw nut until it contacts body hex.
Note: When reassembling fitting, body and nut should be inspected. Only reuse if parts are in proper condition. Sleeves should never be reused.
DOT Air Brake (Hose Ends)