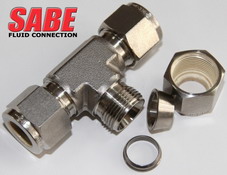 Instrumentation Tube Fittings
Instrumentation Tube Fitting
Interchange with Parker CPI, Swagelok, Parker A-LOK, HOKE Gyrolok, etc..
Applications
It is designed using industrial codes and specifications with additional Cutting-Edge Engineering on swaging action and sealing integrity. It provides excellent leak-free sealing on high pressure gas, vacuum, impulse, thermal shock, heavy vibration, and many other stringent applications in control systems, process and instrumentation devices and in industrial equipment used in various applications. For example: Pulp & paper mills, Petroleum process plants, Chemical process plants, Chromatography, Power generation plants.. .
Features
Construction - Four pieces unit: body, nut, front & back ferrule. Extruded and Forged Configuration.
Self-aligning, Vibration resistance, Resist temperature cycling..
Advantages - Easy to install, anti-corrosion, and No torque is transmitted to tubing during installation.
Materials - SS316 as standard. SS304 and Brass are vailable on request.
Specification
Temperature Range: -325°F to 1200°F (-198°C to 648°C)
Working Pressure see below chart

Assembly Instructions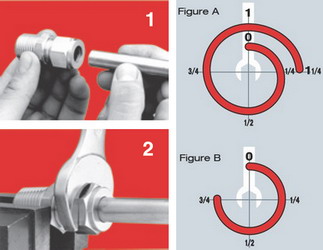 SABE Fittings are supplied assembled and finger-tightened. They are ready for immediate use. Disassembly before use can result in dirt or foreign material getting into the fitting, which can cause leaks. 1. Insert the tubing into the Tube Fitting. Make sure that the tubing rests firmly on the shoulders of the fitting and that the nut is snug-tight. In this position, the tube does not rotate by hand. 2. Before tightening the nut, it is recommended that a scribe mark be drawn on the hex of the nut extending onto the fitting body, as position "0". This mark will serve as an indicator for the starting point and proper pull-up. 3. While holding the fitting body steady with a backup wrench, tighten the nut 1-1/4 turns, Watch the scribe mark and make one complete revolution. Then continue turning to the position End as per figure A. (For 1/8" and 3/16" size tube fittings, only 3/4 turns from finger-tight is required as Figure B)
Brass Instrumentation Tube Fitting
Stainless Steel Instrumentation Tube Fittings